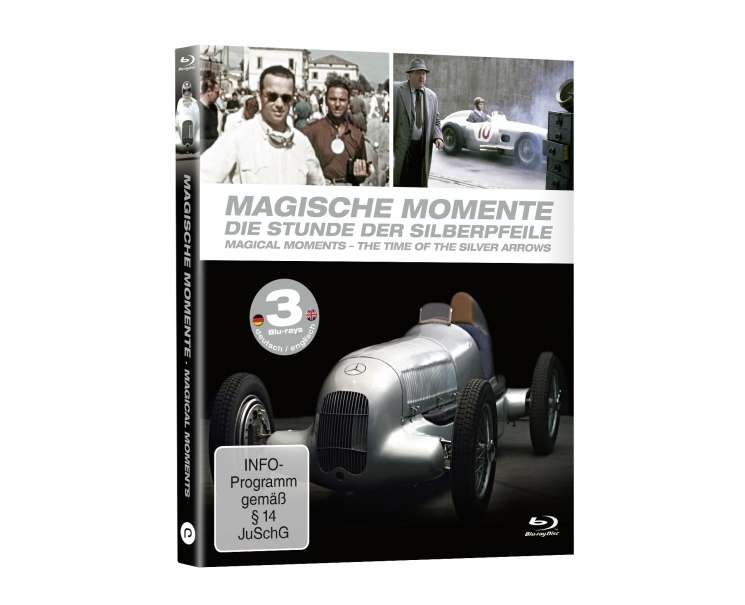 Mercedes-Benz Blu-ray "Magical Moments"
Prices incl. VAT plus shipping costs
Ready to ship today,
Delivery time appr. 1-3 workdays. Delivery times may vary depending on the delivery country.


This article is an exclusive AMG Private Lounge item. Please enter the correct code, to add the article to your shopping cart. For more information the code can be found under AMG Private Lounge
The code you have entered is not correct. Please try again
Product information "Mercedes-Benz Blu-ray "Magical Moments""
The Silver Arrows of Mercedes-Benz: with their unique success story, they stand for an incomparable era of motor sport. Characterized by spectacular achievements in racing as well as glorious but also tragic individual careers, the stories of the drivers and their silvery racers are fascinating to this day.

Caracciola, Lang, Fangio and Moss are the names of the heroes who dominated the racing scene at the time. With their Silver Arrows they became legends. However, this era of motor sport does not only produce stories of great triumphs. Risk always accompanies the drivers on their way to heroic fame. How they put man and machine to the limit, is a big part of the fascination.

Film director Saskia Weiheit and author Florian Dennert make the magical moments of an era come alive that has lost not one bit of its attraction and fascination − with elaborately shot play scenes, historically accurately depicted interviews as well as never before shown archive footage in colour. Experts, collectors and racing legends like Jackie Stewart, Jochen Mass and Hans Herrmann showcase the historical race cars and impressively convey the fascination that emanates from these precious originals.
Product details:
Language: german / english
Running time: 530 min.
Sound: stereo
Genre: documentation
Dimensions: 16:9