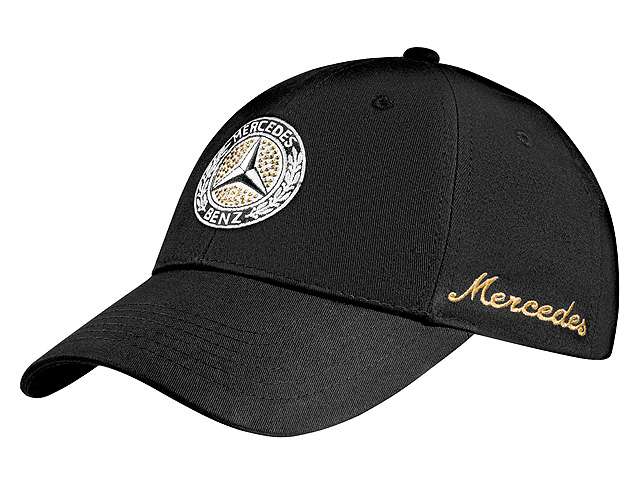 Women's cap Classic black
This product is currently not available.
Prices incl. VAT plus shipping costs
Delivery time 7-14 Workdays


This article is an exclusive AMG Private Lounge item. Please enter the correct code, to add the article to your shopping cart. For more information the code can be found under AMG Private Lounge
The code you have entered is not correct. Please try again
Product information "Women's cap Classic black"
Eye-catching design: the Classic cap for women. Made from 100 % cotton, this black cap, which can be adjusted to fit, is not just comfortable to wear. It also has a very attractive look. In addition to the gold-coloured vintage "Mercedes" lettering embroidered on the back, the embroidered classic star on the front, trimmed with Swarovski® crystals, is a particular highlight.
Product details:
Black
Cotton
Swarovski® crystals
Embroidered classic star on the front
Metal clasp for adjusting fit
The ladies' hat: How to brave the wind and still look good in the early 20th century
The fact that women in smart outfits were able to assert themselves as drivers in the early 20th century was an important contribution to female emancipation in everyday life. This trend was triggered by Bertha Benz, who was actively involved in paving the way for her husband's, Carl Benz's, great invention. She drove the Patent Motor Car from day one and, in the summer of 1888, made the first long-distance journey in a motorcar. Driving that open three-wheeler, she had to protect herself against the elements with a hat.
As top speeds increased, broad-brimmed headgear soon reached its limits: The slipstream caught such wide-brimmed hats and pulled at them violently. But women knew how to cope, remain elegant and, at the same time, define new styles: From the 1920s and 1930s, tight-fitting hats, also known as cloche hats, became all the rage. Those hats, combined with an Eton crop or bob hairstyle, allowed modern ladies to underline their self-confident presence.
The Classic cap for women still braves the wind and still looks good today.